BLAKDYAK

Main | What's New! | Original Songs | Tipaklong's OPM | Guestbook | Email Tipaklong | The Kalabaw Edition | The GabSites HQ


Pic from Blakdyak's Album!

From Blakdyak's album "Noon at Ngayon"
Modelong Charing
(Blakdyak)
a tipaklong real audio file
Executive Producer: Vic del Rosario Jr.
Recorded and mixed by Jerry Joanino at Pink Noise Recording Studio
VIVA Records (1997)

Ako ay isang model Doon sa Ermita Gabi-gabi sa disco At nagpapabongga Sa pagka-istarir ay Talbog lahat sila Ang mga porma nila Ay nakakandaranpa Pag ako ay sumayaw na
Ako'y may nakilala mestiso na Hapon Na-inlove siya sa akin type niyang gawing girlfriend Ako'y niregaluhan bahay, lupa't datong Ang 'di niya lang alam at 'di ko'y masabi na ako'y isang....DARNA!!
Ang ini-ingat-ingatan ko Ang ugat,lawit at muscle ko na tinatagu-tago ko pa sa tuwing kami'y magkasama
Ako'y nananalangin na sana'y malawarin Huwag sanang mabuking nakatali kong akin na ubod ng itim
Kami biglang nagkita hindi sinasadya Sa restroom ng lalake doon sa Megamall Napatingin siya sa akin ako'y napahiya Sa galit ng hapon inumbag niya ako ......"Ah Bakero!What is that?..."Just like yours......Papa!" Sira ang beauty ko Binawi pang lahat bahay,lupa't datong ng nobyo kong Hapon Kaya ang beauty ko ngayon, nagtitinda nalang....ng itlog at talong!!!
Blakdyak Article
by Claire Agbayani-Isidro (1997)
For quite sometime in 1995, news had been going around that there was an unique reggae act at Chatterbox along West Avenue. Of course for a couple of years already, Manila has been receptive to music imported from the sun-kissed isles of the Caribbean. But this act, then known as Blakdyak, was different in that it appealed more to the masa
There was only one way to find out if the rumor were true. So we hit the road and checked the guy out.
If only for his tight brown curls and very dark skin - the sight of the vocalist was enough to merit attention. With legend Bob Marley's face splashed on his shirt - who wouldn't take a second look? Well, at first sight, they do look alike.
But as soon as Blakdyak opened his mouth and interpreted Bob's "Waiting in Vain", everybody took notice and struggled to get a good view. This was followed by "reggae-d" and "ska-ed" versions of Michael Boloton's "To Love Somebody" and Eric Clapton's "Wonderful Tonight". You could also tell by the way Blakdyak danced that he's got the rhythm only men of African-American descent possess. (tipaklong's note:whatcha sayin' Claire? Filipinos can't dance? I beg to disagree!!!!! )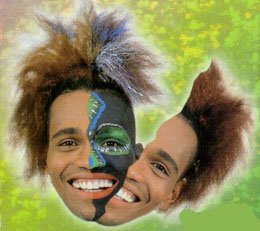 It turns out, Blakdyak was previously known as Nuzhuz, Grand Finals winner of the OPM contest in Eat Bulaga some years ago - where Freddie Aguilar was a judge.
Winning the contest was nothing to Blakdyak - who started taking interest in music early in life. Interest in reggae band (and ska) was a logical development. "Lukso ng Dugo", he surmised. After all, Blakdyak is the progeny of an American soldier of Jamaican origin who was once stationed in Olongapo.
Back in first year hihgh school in Castillejos,Zambales, Blakdyak would join school programs. Soon enough he was earning something like 300 pesos a night going as far as Batangas, Subic and Puerto Galera to perform with road tour show greats as Apeng Daldal and Palito.
Much as his band then would perform a predominantly reggae repertoire. He often opted to pop songs, then rearranging them into reggae and/or ska.
Blakdyak soon found his way into bigger venues like the Folk Arts Theater where he proved to be a hit among the young people - especially his rendition of original "Modelong Charing" (to the tune of "Bikining Itim" though)
Blakdyak must have made such an impression on VIVA head honcho Vic del Rosario Jr. for the latter to decide, on the day of Blakdyak's contract signing for a record deal with VIVA - to sign him up too. As an actor for VIVA Films, and a talent for "Gillage People". How's that for a grand slam?
Me thinks Blakdyak will enter every venue imaginable in the days to come and would probably enter our subconscious (Heaven forbid!). But then it's not unlikely.